---
Director of Hospital Services
Carol Bocchicchio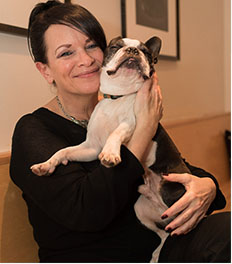 Katz & Dogs Animal Hospital was lucky enough to have Carol join our team as Hospital Director in November of 2013.
She started working with sheltered pets over 20 years ago. She became a dog trainer in 1990 and was able to help thousands of dogs find permanent homes through her dog obedience work at the Bergen County Animal Shelter. In 2002, Carol began her career in animal hospitals starting at the front desk.
Carol brings an inimitable sense of calm, organization and good humor to our hospital. She excels at helping our team develop their strengths to their fullest potential. She assists our clients with any concerns they may have and helps manage our office flow. Carol is able to keep all of the small but important pieces of running a veterinary hospital in place, so that our hospital is able to function smoothly. Carol cares for our client's every need promptly, efficiently and with style.
When she was a child, her favorite game was "Vet." She says, "I am excited to have my dreams come true by working together with this incredible, dedicated and hard working team of professionals." She enjoys having the opportunity to impact lives by making Katz & Dogs a fulfilling place to work and reaffirming our clients commitment to the human-animal bond.
Carol shares her home with her amazing husband Stephen, beautiful mother Agnes and adorable white cat, Ava.
---
Technicians and Assistants
Lysha Fernandez, CVT
Schools Attended: Bergen Community College
Degree: Associate in Applied Science/Veterinary Technology
Professional Associations: New Jersey Veterinary Technician Association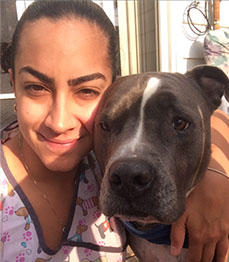 We were fortunate to have Lysha join our team in 2011, prior to her graduation from Bergen Community College.
Although Lysha is extremely skilled in all areas of practice, she particularly enjoys performing dental prophylaxis. She says "There is something about making dirty teeth shine that is really rewarding."
Lysha has a strong work ethic and whenever we need something to be taken care of, we can count on her to jump in with two feet and get the job done. We are very lucky to have such a talented, well rounded and versatile technician on the Katz & Dogs team!
Some of her interests includes good food, good music and the beach.
Lysha shares her life with her amazing pit bulls Blu and Rocco.
---
 Kristina Russo, CVT
Schools Attended: Veterinary Technician Institute of Pittsburgh
Degree: Associate Degree in Veterinary Technology
Professional Association: New Jersey Veterinary Technician Association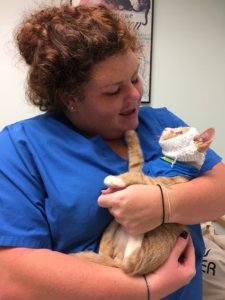 Kristina has been a CVT (Certified Veterinary Technician) since 2011. We have been lucky enough to have her as a team member at Katz & Dogs since 2012.
Kristina says one of her many goals as a Katz & Dogs team member is "to assure clients that she will always take care of their pets as if they were her own." Her skills, her patience and her attention to detail are especially helpful for new pet owners who need guidance and education about how to best care for their new family members. Kristina has a quiet confidence that relaxes even very nervous and anxious pets.
Professionally she is especially interested in dentistry and anesthesia.
In Kristina's free time she enjoys cooking, traveling, spending time outdoors and being with family. She shares her heart and home and home with three black cats Dill, Johnny Cash, and Dizzy (a wonderful kitten affected with Cerebellar Hypoplasia) and a handsome orange cat named Chuck. Her pet family also includes Doc, a miniature dachshund and Maya, a german shepherd mix.
---
Anna Zamecka, CVT
Schools Attended: County College of Morris, Bergen Community College
Degree: Associate in Liberal Arts, Associate in Applied Science/Veterinary Technology
Anna joined our team in 2017. She is smart, skilled, professional, and a true team player. We are proud and excited to work beside her in her chosen field. Anna graduated in August of 2017 from the Bergen Community College Veterinary Technology program. She successfully passed her boards and earned her C.V.T. (Certified Veterinary Technician) title in December of 2017!
Anna loves hiking and volunteering at the Bloomfield Animal Shelter. She also loves watching movies and playing video games in the company of her two beautiful cats, Potato and Grandma.
Anna says, "My favorite part of my job is making vet visits less scary and stressful for our patients through positivity, calm and gentle handling, patience and of course, cheese! I'm super grateful and proud to work with and learn from fantastic technicians. I also appreciate the high quality of medicine we practice."
---
Sonia Rivera, Veterinary Assistant
School Attended: Florida Institute of Animal Arts
Degree: Veterinary Assistant Program Certificate
Sonia joined Katz & Dogs in 2016 and has been a great addition to our team! She is a very compassionate and dedicated veterinary assistant who has moved to the east coast all the way from California! While living there, Sonia volunteered at the Orange County Animal Control and Animal Friends of the Valley Shelter; she has also volunteered at the SPCA in Orlando while living in Florida.
Sonia quickly embraced the warm and calm atmosphere we strive to create here at Katz & Dogs Animal Hospital. She aspires to attend veterinary technician school to further her career.
In addition to taking care of her adorable pugs, Simba and Olga, Sonia's hobbies and interests include going to concerts, movies and snorkeling on the beach.
---
Rubie Valentin, Care Coordinator/Veterinary Assistant
School Attended: Valencia College, Orlando, Florida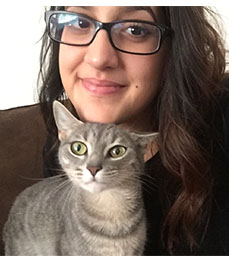 Rubie joined our team in 2015. We are extremely happy to have her on board. She has been a wonderful addition to Katz & Dogs Animal Hospital. Rubie's quiet but positive energy is soothing to everyone around her. In addition, she's a true team player who is always ready to jump in and lend a hand.
She has said her favorite part of working at Katz & Dogs "is getting to help our clients and their pets in any way I can".
Rubie and her boyfriend are the proud parents of a beautiful baby girl named Jayleen. They could not be more thrilled and say that every day is a new and exciting adventure!
She loves to read and spend her free time with her strikingly beautiful cat Luna. They enjoy hanging out and binge watching Grey's Anatomy reruns!
---
Sahony Caba, Care Coordinator/Veterinary Assistant
Schools Attended: Passiac County Community College, William Paterson University 2016 to Present
Degree: A. S. in Science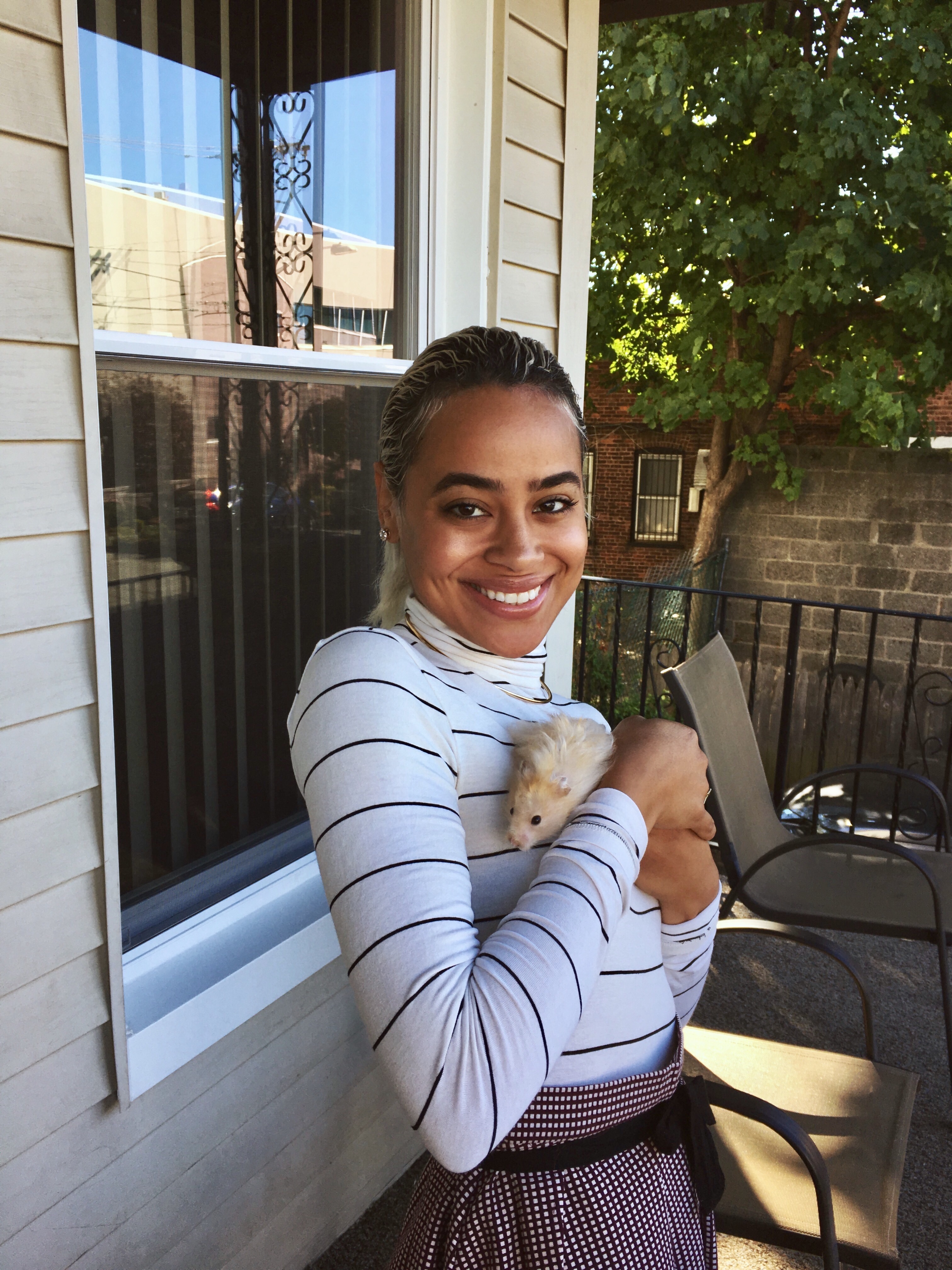 Sahony volunteers and Clifton Animal Shelter and is an active Christian Mission John 3:16 Church member. She loves to run and enjoys writing, art and music.
Sahony said that working beside the animals she loves makes her passion for becoming a veterinarian grow stronger day by day.
She happily shares her home with her golden hamster, Nugget.
---
Vanessa Sliker, CVT
Schools Attended: Bergen Community College, Veterinary Technician Northern New Jersey Consortium
Degree: Associate in Applied Science/Veterinary Technology
Professional Associations: New Jersey Veterinary Technician Association, National Association of Veterinary Technicians
Vanessa started working at Katz & Dogs Animal Hospital in 2005 as a technician. She left to pursue her professional development as a critical care technician, an oncology technician, an ophthalmology technician and a radiology technician before returning in 2010 as our hospital director. Vanessa left our full time team in 2014 to work closer to home, but we are still honored to have her "pinch hit" for us.
Vanessa has a work ethic that is unsurpassed. We can always count on her to be here, motivated and ready to work. She truly enjoys her interaction with all of our patients and their people. You can often hear her contagious laughter as you pass an exam room she is working in.
In her free time she enjoys cooking and baking.
Vanessa and her wife, Terri, share their home with a new, bouncing baby boy, two beautiful cats, Sasha and Tybalt, a wonderful Australian Cattle dog, Lola and an Amazon Grey parrot named Chiro.
---
Darrah Aberle, CVT
Schools Attended: Bergen Community College
Degree: Associate in Applied Science/Veterinary Technology
Professional Associations: New Jersey Veterinary Technician Association
Katz & Dogs Animal Hospital has been fortunate enough to have Darrah on their team since prior to her graduation in 2010.
Darrah's favorite part of her job is to see the special relationships that our clients have with their cherished pets. " I love working in a hospital where compassion is a necessity. Our team strives to make sure both clients and pets have a positive experience."
Darrah is the "free spirit" of the team. Her passions are rock climbing, running, hiking–basically anything that involves being outdoors! On a couple occasions, she has taken a leave from the hospital to pursue these interests and to do wildlife rehabilitation. We are always happy and excited to see her pursue her dreams and even happier when she comes back "home" to the hospital!
Update: Darrah, her fiancé Matt and their adorable dog Echo Lawrence have decided to pursue their dream of rock climbing and are currently on a new adventure!
---
Care Coordinators
Tiffany Holoubek, Care Coordinator
Schools Attended: Montclair State University
Degree: Bachelor of Arts in Sociology with Minors in Environmental and Criminal Justice
Tiffany has been at Katz & Dogs Animal Hospital since 2013. She has so many positive traits that it is impossible to list them all, but we particularly appreciate her thoroughness and organization.
Tiffany began her career at Katz & Dogs Animal Hospital as a Care Coordinator at the front desk and in the past has also filled the role of Veterinary Assistant. No matter what the task, Tiffany leaves no aspect of her job incomplete. She is always listening and learning and has extensive knowledge about many areas of the hospital and became a key team member in a very short period of time.
Tiffany wants people to know that, "my favorite part of this job is developing and fostering relationships with all the patients and their families. I enjoy helping people and especially their fuzzy friends." She shares her home with two adorable cats, Ebony, a strikingly beautiful tuxedo and Auroara, a fabulous and feisty orange and brown tabby. Daisy, her beautiful, calico angel will surely live forever in her heart.
---
Amanda Golderer, Care Coordinator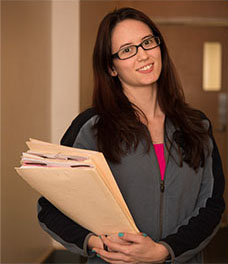 Amanda joined our Care Coordinator team in 2014. She was guided to work at Katz & Dogs Animal Hospital by her genuine love for animals.  Amanda is cheerful, organized, and a true team player who is always ready to help in any way she can. We are thrilled to have her on our Katz & Dogs team.
In her free time, Amanda loves to knit, crochet, read and is very "crafty." She does much of our artwork for our Adoption Day Events and even becomes a face-painter for the day!
Amanda graduated from Fair Lawn High School where she was a member of the Color Guard in Marching Band. Following graduation, she has volunteered as an escort for visiting groups for their band competitions. She now enjoys band competitions from the bleachers.
Amanda shares her home with her boyfriend, Jayson, a spunky, young kitten named Ford, a grey tabby named Alexander and an all black feline named Elliot, who just can't keep his tongue in his mouth when treats are around!
---
Caroline Burns, Care Coordinator
School Attended: Rutgers University
Degree: Bachelor of Arts in Biology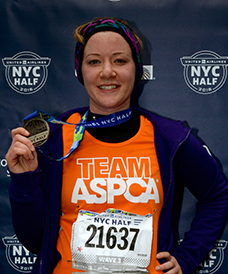 Caroline began working with Katz & Dogs in 2016. She has been a great addition to our front desk family. She is confident, motivated and is a true team player. Her creative sense of humor keeps us on our toes!
Her many interests include science, camping and running. She has already completed 11 half marathons and 2 full marathons! Caroline volunteers with "Girls on the Run", a program that helps empower young women by highlighting their athletic potential.
Caroline happily shares her home with her handsome, black cat Bob.
---
Sargent Pepper
Hospital Mascot, Greeter, Spirit Lifter and Friend to All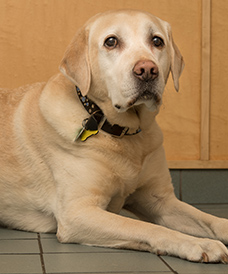 Katz & Dogs Animal Hospital has a very important team member who hands down is everyone's favorite! Sarge is Dr. Katz's and her husband, Matthew's handsome yellow Labrador Retriever Mix.
Sarge takes all of his many jobs at the hospital very seriously. He is always there to lend a paw if you have a rough day and he enthusiastically greets everyone who comes by.
On the occasional day he chooses to "work from home" if we had a nickel for every time we hear "Where's Sarge?" we would be millionaires.
Truth be told, if you ask any of the Katz & Dogs team members they will tell you that he never, ever fails to brighten their day!
He waits patiently everyday for his very favorite mail carriers and delivery people, who always treat him to a special snack. Sarge truly looks forward to their visits.
Sarge happily shares his home with his brother Clarence Lemmons, a striking gray and white feline and his little sister Baby Ruth Ginsburg, a beautiful brown tabby.