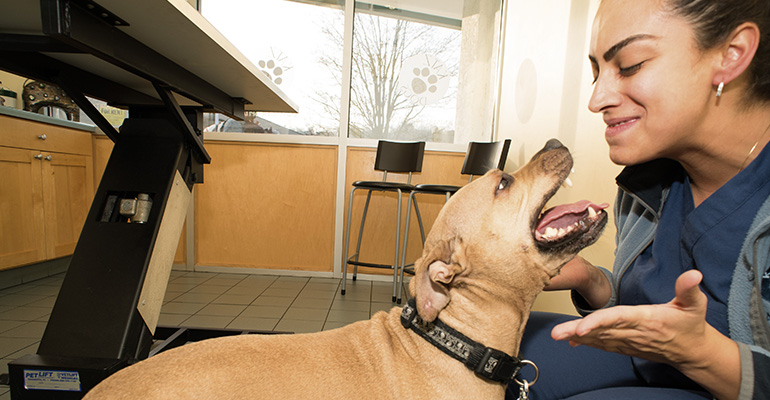 "I have been bringing my pets to Katz & Dogs Animal Hospital for several years. Dr. Nancy Katz is a very intelligent, compassionate and extremely competent veterinarian who will take as much time as needed to deliver high quality care to all of her clients. She has a great sense of humor and a gentle touch with her animal clients. She is an outstanding diagnostician, who diagnosed a rare immunological disorder in one of my cats when he was obsessively licking his paw (which lab tests confirmed). Just as important, she takes a stepwise approach to management to keep costs under control. Dr. Katz spends time with each animal's owner to explain what is going on and calls in a very timely manner with laboratory tests (I wish my own doctor were as good about doing so). Her staff members are excellent, kind, friendly and extremely competent. The office is well managed and the clients are seen in a timely manner. The receptionists are wonderful, informed and ORGANIZED; the veterinary technicians are proficient and pleasant. To cap things off, Dr. Katz's dog Sarge greets visitors and helps calm nervous visitors to the clinic.
Dr. Katz is also an advocate for all of the community animals as well, serving as co-chair for the Montclair Township Animal Welfare Advisory Committee and volunteering her time to improve conditions at the township shelter. When it comes to my pets, I wouldn't trust them with anyone else."
-Carolyn Sikes, Montclair, N.J.
---
"My family has had the pleasure of receiving care from Katz & Dogs for almost 10 years now. We started with Dr. Katz and her phenomenal team when our yellow lab, Rufus was about 2 and have added a black lab named Brody to our family over the past year. Dr. Katz is the most extraordinary veterinarian with whom I have ever worked. She is thorough yet prudent in the tests she recommends and has the warmest bedside manner with the dogs and every member of my family. And when we need only a tech appointment, the quality of care doesn't lapse. From a broken leg to ingesting lots of things they shouldn't have, my dogs have tested Dr. Katz and her team and they have never disappointed. But no summary of my experience with Katz & Dogs would be complete without mentioning Carol, Lysha and the rest of the support staff. My interactions have always been positive. Thank you, Dr. Katz and team, for providing such extraordinary care!"
-Sharon Sevrens, Montclair, N.J.
---
"I have been bringing my cats to Katz & Dogs since it opened in 2002 for many reasons. Dr. Katz provides thorough diagnostic and follow-up care; she has a well-trained team who are good and reliable communicators. The experience of bringing my cats to the hospital is relatively stress free.
I've had lots of other vet experiences with lots of other cats and I'm happiest with Dr. Katz.
For my household, her name fits!"
-Kay Sherwood, Montclair, N.J.
---
"My cats are a part of my family. When I moved to Montclair it was hard to change vets because I loved my previous vet. In Dr. Nancy Katz, I found a calm, loving demeanor, superior knowledge of cat medicine and a very professional staff, from intake to nail clipping to follow-up. Dr. Katz cares and counsels you through your pet's care, especially in difficult circumstances. I wholeheartedly endorse Katz & Dogs Animal Hospital for the medical care of your beloved pet."
-Karen Shinevar, Montclair, N.J.
---
"Katz & Dogs Animal Hospital has been my pets' veterinarian for over 10 years. My own adopted pets and the rescue cats I foster have provided ample opportunity to get to know Dr. Katz and her practice.
The staff is always welcoming, helpful and knowledgeable. They are also well-organized and stay as on top of my pets' needs as I do.
Dr. Katz takes a thorough and personal approach, treating each animal as an individual. Dr. Katz and her technicians have a gentle manner making vet visits as minimally stressful as possible, especially for cats. My dogs legitimately enjoy going to Katz & Dogs and walk in and out with their tails wagging!"
-Sara Kent, Montclair, N.J.
---
"I have known Dr. Katz since 2004. She is without a doubt, the best veterinarian in Montclair. She advocates for your pets and is extremely compassionate. Your pets are her patients. You will see this when she interacts with them. She eases their fears and calms their souls.
Dr. Katz and I have been through times of sadness. Each time, she and her staff have supported us and cared for us when our beloved pets have gone to the Rainbow Bridge.
Dr. Katz and her team are simply the best!"
-Donna Pedro, Upper Montclair, N.J.
---
"Some of the many reasons why the Mannarelli girls love Katz & Dogs Animal Hospital…
*Katz & Dogs Animal Hospital is exceptionally clean. It's bright and cheery and very welcoming.
*We have been patients for 10 years and each visit has been a happy one. If I say to my dogs "Let's go see Dr. Katz" my 10 year olds jump out of bed and act like puppies!
*The follow up from Dr. Katz is excellent. Dr. Katz and her staff take the time to check on our dogs after every visit and answer any questions I may have.
*Dr. Katz is very thorough with her exams and very patient with both the dogs and the parents.
*The ladies at the front desk and the techs are so nice and helpful. They are professional and very caring."
-Karen Mannarelli, Clifton, N.J.
---
"When I knew that I was moving to NJ from D.C. one of the first steps I took was to locate a good veterinarian for my cats, and I especially wanted to find one who was a member of the American Association of Feline Practitioners. The Montclair area has many superb veterinarians, but one clearly stood out, and that was Dr. Nancy Katz.
I consider myself extremely lucky to have found Katz & Dogs Animal Hospital. Dr. Katz is extremely knowledgeable, but most important, she always goes the extra mile to help her clients.
My oldest cat, Norton, had a difficult time with diabetes, but I remember her once calling a colleague in Australia to consult about his case, so I would not worry about how I was handling it. She also helped me to learn how to manage his diabetes at home, while always remaining on call for help and questions.
All of her staff-from care coordinators to veterinary technician to office manager- are very well trained and speaking with them is always a pleasure, as are all my visits. The office maintains a professional, compassionate and soothing environment, such that my pets and I experience the least stress possible-in itself a phenomenal achievement.
Dr. Katz also understands that each pet is unique, which means that a treatment that is right for one is not best for the other. She carefully explains her diagnosis and presents all the options, so that that we are always well informed and can make good decisions about care. My cats are in such good hands that I would never want to move again. Thank you Katz & Dogs Animal Hospital for all the good work you do!"
-Melinda Knight, PhD, West Orange, N.J.
---
"Dr. Katz and her staff are genuinely true animal lovers. They are so caring and make it a point to be super thorough throughout the examination process. They are also terrific about follow-up the next day, finding out how your pet is faring. I have been taking my dogs there for over 6 years and would highly recommend them!"
-Heather Carter, Montclair, N.J.